Five Possible Reasons Why Your Emails Are Landing in the Spam Folder?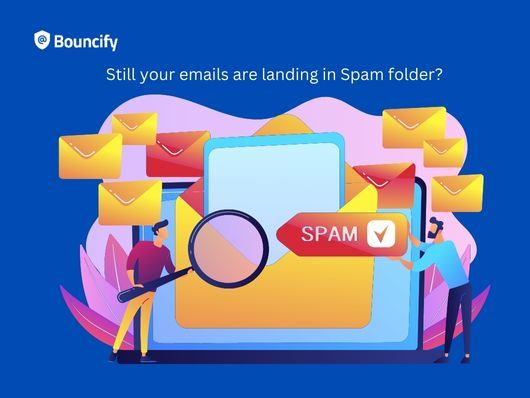 Email marketing is a powerful tool for businesses to reach their customers and promote their products or services. However, even with a great email marketing strategy in place, sometimes your emails end up in the spam folder. This can be frustrating and can have a negative impact on your email campaign's effectiveness. In this blog post, we will explore five possible reasons why your emails are landing in the spam folder.
Your Email Content is Spammy:
Email filters are designed to identify spam content and filter them out of the inbox. If your email content contains certain spam triggers, it is more likely to be flagged as spam. Spam triggers include excessive use of capital letters, too many exclamation marks, certain words, and phrases commonly used in spam emails. To avoid this, keep your email content clean and avoid spammy language.
Your Email Has Low Engagement Rates:
If your email has low engagement rates, it is more likely to be flagged as spam. Engagement rates include metrics such as open rates, click-through rates, and replies. Low engagement rates signal to email service providers that your email is not relevant or interesting to your subscribers, making it more likely to be filtered as spam.
Your Email Sender Reputation is Poor:
Email service providers use sender reputation to determine whether your email is trustworthy or not. If your sender reputation is poor, your emails are more likely to be flagged as spam. Factors that contribute to a poor sender reputation include high bounce rates, high complaint rates, and sending emails from an unverified domain. To improve your sender reputation, monitor your email performance, and follow email best practices.
Your Email is Not Mobile-Friendly:
Most people now access their emails from their mobile devices, and if your email is not mobile-friendly, it is more likely to be marked as spam. Ensure that your emails are optimized for mobile devices by using a responsive design and optimizing your email content for smaller screens.
Your Email Contains Malware or Phishing Links:
Email filters are designed to detect and block emails containing malware or phishing links. If your email contains these elements, it is more likely to be marked as spam. To avoid this, ensure that your email content is free from malware and only include links to trustworthy sources.
In conclusion, there are several reasons why your emails might be landing in the spam folder. By addressing the issues discussed in this article, you can increase the chances of your emails reaching your subscribers' inboxes. Additionally, it's important to regularly check the validity of your email list and ensure that your emails are being sent from a trusted domain. To help with this, you can use email validation tools like Bouncify, which offers 99% accuracy in validating email lists. By taking these steps, you can improve your email deliverability and increase engagement with your subscribers.