Common Mistakes That Damage Email Sender Reputation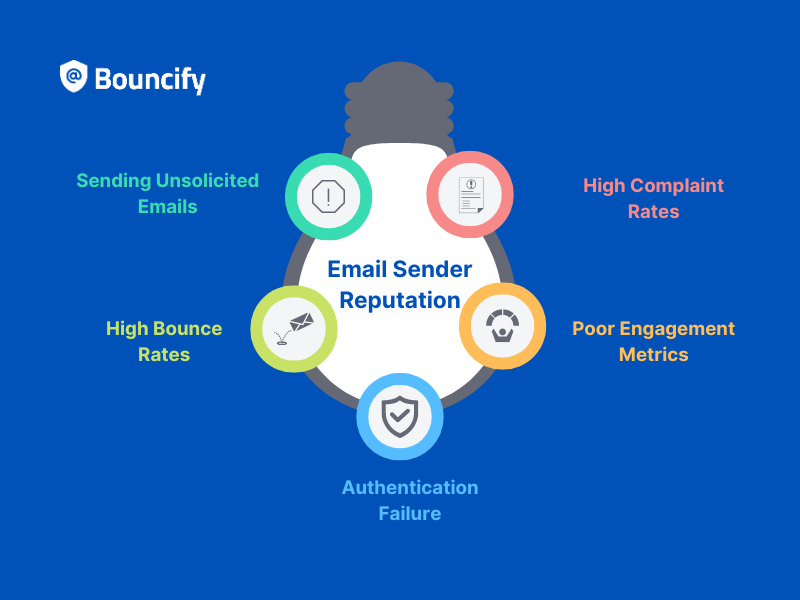 Email sender reputation plays a vital role in the success of your email marketing campaigns. A poor sender reputation can result in your emails being flagged as spam, blocked by email service providers, or sent directly to recipients' junk folders. In this blog post, we will explore how email sender reputation can be damaged and provide effective strategies to improve it.
Sending Unsolicited Emails
Sending emails to recipients who haven't explicitly opted-in to receive your communications can severely damage your sender reputation. It is crucial to build an email list with genuine subscribers who have willingly expressed interest in your content or offerings. Implement a double opt-in process to ensure subscribers are actively confirming their desire to receive your emails, thereby improving the quality of your list and protecting your sender reputation.
High Bounce Rates
A high bounce rate occurs when a significant number of your emails are undeliverable due to invalid or non-existent email addresses. This can negatively impact your sender reputation. Regularly clean your email list using an email validation service like Bouncify to remove invalid addresses and reduce bounce rates. Maintaining a low bounce rate helps improve your sender reputation and increases the chances of your emails reaching recipients' inboxes.
High Complaint Rates
If your recipients consistently mark your emails as spam or report them as unwanted, it can damage your sender reputation. To minimize complaint rates, ensure your emails are relevant, valuable, and anticipated by your subscribers. Segment your email list and personalize your content to deliver tailored messages that resonate with each recipient. Make it easy for subscribers to unsubscribe and promptly honor opt-out requests to avoid frustrating recipients and receiving spam complaints.
Poor Engagement Metrics
Low engagement metrics, such as low open rates, click-through rates, and high unsubscribe rates, can signal to email service providers that your emails are not valuable or relevant to recipients. To improve engagement, focus on crafting compelling subject lines, delivering personalized content, and optimizing your email design for better readability and user experience. Regularly analyze engagement metrics and make data-driven adjustments to enhance the effectiveness of your email campaigns.
Authentication and Authentication Failure:
Email authentication protocols, such as SPF (Sender Policy Framework) and DKIM (DomainKeys Identified Mail), play a crucial role in establishing your sender reputation. Failing to set up proper authentication can lead to email deliverability issues and damage your reputation. Ensure that you correctly configure SPF and DKIM for your domain to authenticate your emails and prove their legitimacy.
Conclusion
Maintaining a strong email sender reputation is crucial for successful email marketing campaigns. By understanding the factors that can damage sender reputation and implementing best practices to improve it, marketers can significantly enhance their email deliverability and engagement rates.
One valuable tool that can aid in this endeavor is Bouncify, an advanced email validation service. By using Bouncify, marketers can ensure their email lists are accurate and up-to-date, reducing bounce rates and minimizing the chances of being flagged as spam. With its reliable verification process, Bouncify helps businesses enhance their sender reputation, leading to more effective and successful email marketing campaigns.
Remember, a positive email sender reputation not only increases the chances of reaching the inbox but also fosters trust and credibility with recipients. Embrace these practices and leverage tools like Bouncify to unlock the full potential of your email marketing efforts and achieve remarkable results.