Bouncify vs ZeroBounce vs NeverBounce vs Hunter vs BriteVerify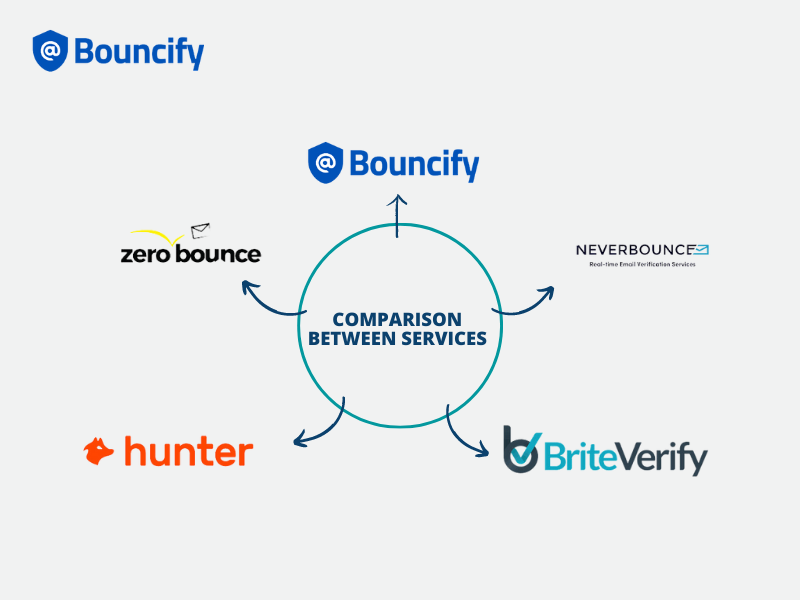 Choosing the right email verification service is crucial for maintaining a clean and engaged email list. In today's competitive market, there are several top players in the field, each of these services offers unique features and benefits that can help businesses improve their email deliverability, increase open rates, and reduce bounce rates.
Bouncify
Bouncify is a Leading provider of bulk email list cleaning and email verification service that ensures accurate, secure, and reliable email deliverability. It helps businesses maintain a clean and engaged email list, enhancing marketing campaign effectiveness and customer communication. Say goodbye to bounced emails and reach your target audience with confidence using Bouncify.
ZeroBounce
ZeroBounce is a high-performing email validation service that guarantees accuracy, speed, and security. With an impressive 99% accuracy rate, our advanced technology meticulously verifies email addresses, ensuring that your email marketing campaigns are delivered to genuine and engaged recipients.
NeverBounce
NeverBounce is a trusted email verification service that prioritizes high email deliverability and safeguards your sender reputation. Through their meticulous cleaning process, every email undergoes up to 75 checks across global locations, ensuring accurate results and minimizing bounce rates.
Hunter
Hunter is an effective email checker, offering precise results for email verification. Their Email Verifier is meticulously designed to perform comprehensive validations at various levels, such as email format, domain information, mail server responses, and cross-referencing against their vast database of professional email addresses.
BriteVerify
BriteVerify is a trusted email verification service that ensures your email list is accurate and up-to-date. With their advanced technology, BriteVerify detects and removes invalid, risky, and low-quality email addresses, reducing bounce rates and improving deliverability.

Email Verification Services: A Comparative Analysis
| Feature | Bouncify | ZeroBounce | NeverBounce | Hunter | Brite Verify |
| --- | --- | --- | --- | --- | --- |
| Accuracy | High | High | Average | average | Below average |
| Speed | Fast | Fast | Fast | Fast | Fast |
| API Support | Yes | Yes | Yes | Yes | Yes |
| Spam Trap Removal | Yes | Yes | Yes | Yes | Yes |
| Disposable Email Detection | Yes | Yes | Yes | n0 | Yes |
| Syntax Validation | Yes | Yes | Yes | Yes | Yes |
| Domain Verification | Yes | Yes | Yes | Yes | Yes |
| Pricing for 100K email verification | $99.00 | $390.00 | $400.00 | $499.00 | $600.00 |
| Customer Support | Good | Good | Limited | Good | Good |
| Free Trial | 100 free credits per account | 100 credits every month for business domain, for rest only 100 credits per account | 1000 free credits for one account | No free trial | 100 free credits per account |
| Pros | The service is user friendly, affordable, free list analysis, accurate results, detects Accept-All and Unknown, deploys various method to verify emails, bulk upload, API, Dashboard integrations, real time verifification. | The service is exceptionally fast, accurate, and cost-effective. | It is an fast and thorough email verification/list cleanse tool. | Disposable and Unknown email addresses are not charged. | You can verify lists either by uploading the list or by using integration. |
| Cons | If more integrations available it would be helpful. | Very expensive. | Very expensive, limited support, Very less free credits, Accuracy is lower. | No free trial, expensive, does not check free emails. | No Accept-All and Unknown Detection, No free List Analysis, Tedious registration process, highly Expensive |
Conclusion
In summary, when it comes to choosing an email verification service all offer reliable solutions to improve your email deliverability and maintain a clean email list. Bouncify stands out for its accurate and fast verification process, user-friendly interface, and robust API integration options. Ultimately, the choice among these email verification services will depend on your specific needs, budget, and preferences. It's essential to evaluate the features, pricing plans, customer support, and reputation of each service to find the best fit for your business. Remember, maintaining a clean and engaged email list is vital for successful email marketing campaigns, and selecting a reliable email verification service is an important step in achieving that goal.