Bouncify Introduces Zapier Integration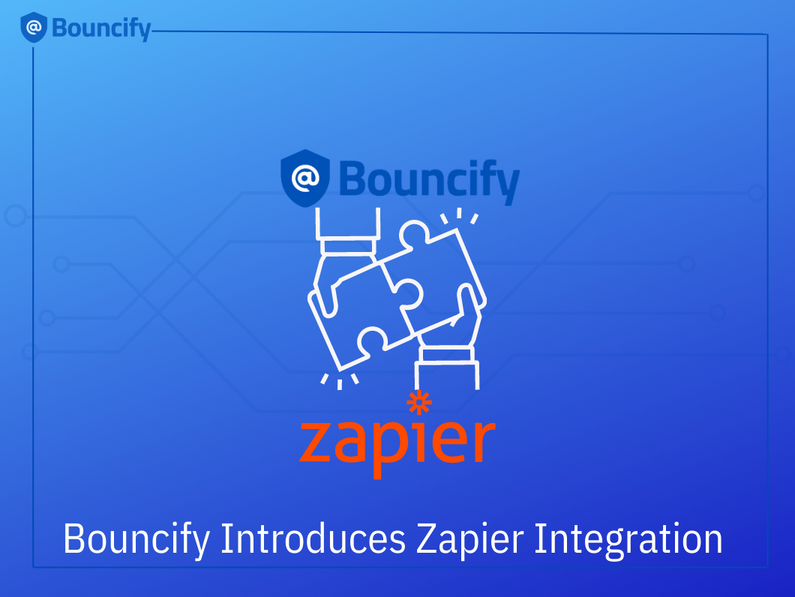 For the purpose of streamlining the email verification process across several platforms, Bouncify has added Zapier to its list of integration. The best email validator can now be easily connected to more than 1,000 apps thanks to the Bouncify - Zapier connector.
Customers can send and validate emails directly into Bouncify from their other apps by using the API connection hub Zapier. Following email validation, Zapier makes sure that the results are quickly and safely transferred back to the selected app.
The systems work in the background and save consumers time when maintaining their email hygiene.
Connect your preferred apps to Bouncify using the integration with Zapier.
The benefit of the Zapier integration is that it makes it quick and easy for our clients to include email confirmation in their workflows.
"Users can use Bouncify to automate particular actions in their favorite apps by connecting it to Zapier. The excellent service to which our clients have grown used continues to be provided. They only now have more control and freedom while utilizing Bouncify. Our objective is to assist them in achieving outstanding data quality with the least amount of work possible during these hectic periods.
Easy email verification with Bouncify: 5 possible integrations
In the last few months, Bouncify has made a total of 5 integrations available, enhancing the usability of email verification for companies of all sizes.
HubSpot, MailChimp, Google Sheets, Zoho CRM, and Zapier are all integrated with the system. In addition to direct integrations, Zapier enables users to link Bouncify to virtually any well-known web app.
As usual, Bouncify makes use of top-notch security measures to guarantee that all procedures protect consumer data.
Bouncify intends to broaden its selection of integrations and speed up access to its email verification service over the upcoming months.